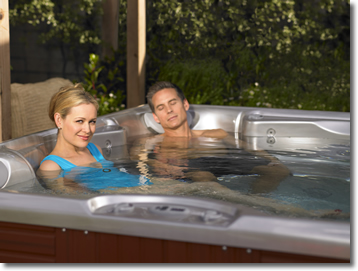 Hot Tub Sales
Serving Eugene, Oregon and Lane County
Onsen is pleased to be the dealership for HotSpring® Spas in Lane County. If satisfaction is what you're seeking, you'll find it in a HotSpring® Spa.
HotSpring Spas
transcend the sum of their parts to become a complete, coordinated system of relaxation and comfort. They are simple to operate and maintain with a wide variety of unique jets, silent operation, unsurpassed energy efficiency and durability that guarantees years of total satisfaction. For over 30 years, Watkins Manufacturing Corporation has pioneered breakthroughs in the hot tub industry, leading to numerous awards for their exceptional innovations. HotSpring® Spas have consistently excelled in comfort with the patented MotoMassage®, the most sought after hydrotherapy device ever invented. No wonder over 950,000 proud owners have made HotSpring Spa the world's number one selling brand of portable hot tub. They are recognized as the market leader, with dealers and service centers in all 50 states, Canada and a global network of more than 65 other countries.
Our Hot Tub Service
Real service is what you receive, not what you're promised. This is why Onsen is renowned as the hot tub service leader in Eugene, Oregon and Lane County. Onsen received HotSpring Spa's first National Customer Satisfaction Award in 1992. In 1997, Onsen was awarded the National Outstanding Service Department Award. Onsen's exclusive service, like Free Test Soaks,
Free Site Assessment
, Guaranteed Trade-in Value, Operation Cost Guarantees and Free Warranty-End Check Ups add up to a service commitment that insures your hot tub will operate for years to come. It is the kind of service that gives you peace of mind as well as a true sense of satisfaction.
Our Guarantee
A
guarantee
should be just that: in the event of a problem, the issue will be taken care of promptly and efficiently. At Onsen, we wouldn't have it any other way. Our guarantees, as well as those of HotSpring Spas, are straight forward and comprehensive. Made of the highest quality materials and state-of-the-art components, HotSpring hot tubs have the most complete
warranty
in the industry — A FULL FIVE YEARS PARTS AND LABOR ON VIRTUALLY EVERY COMPONENT and seven years parts and labor on surface structure. We'll even
guarantee your operating costs
. You see, what we're really guaranteeing is your satisfaction.
Onsen's Hourly Hot Tub Rentals
Soaking in a hot tub is one of the nicest things we know that you can do for your body. It eases tensions, relaxes muscles and improves circulation. It just makes you feel better as it melts and soothes away daily stress — hydrotherapy for the body and mind. We invite you to
enjoy one of our 13 private hot tub rooms
in a quite garden setting. Each room has its own covered dressing area, shower and hot tub complete with hydro jets, including the patented MotoMassage. Open to the sky, it's a perfect setting to savor a frosty winter's eve, a starry summer night or even the cool rain showers of Oregon. The facility is open year 'round and
hot tub rentals are on an hourly basis
. Soaking is a fun activity to share with family and friends or to give as a gift to someone special. For your enjoyment we offer a number of special programs for frequent visitors.
We are proud of our reputation for quality products and superior service. It is hard-earned. We sincerely hope that you will give us the opportunity to continue to build that reputation and to provide you with what we enjoy giving most — satisfaction.